The Liberty is our best style for severe walkers and runners.
Soft full-grain leather and lots of breathable mesh in the upper make this model light, breathable, and quick-drying.
Z-CoiL Pain Relief Footwear Women's
The Liberty has plenty of toe room and is a good option for a wide forefoot.
The tongue, collar, and inside lining add extra padding for a soft, secure fit.
Z-CoiL Footwear is the original spring shoe engineered to relieve severe foot, leg, and back pain.
Patented Spring Coil
Every Z-CoiL shoe has a patented spring coil under the heel, providing massive cushioning!
Active compression over 1 inch reduces each step's impact by 50% over regular shoes.
You feel an immediate reduction in pain and pressure in your bones, joints, and muscles. Z-CoiL also features a built-in rigid orthotic.
This contoured orthotic located below your feet resists twisting and isolated pressure points. The result is excellent stability, balance, and support, especially when walking on uneven terrain.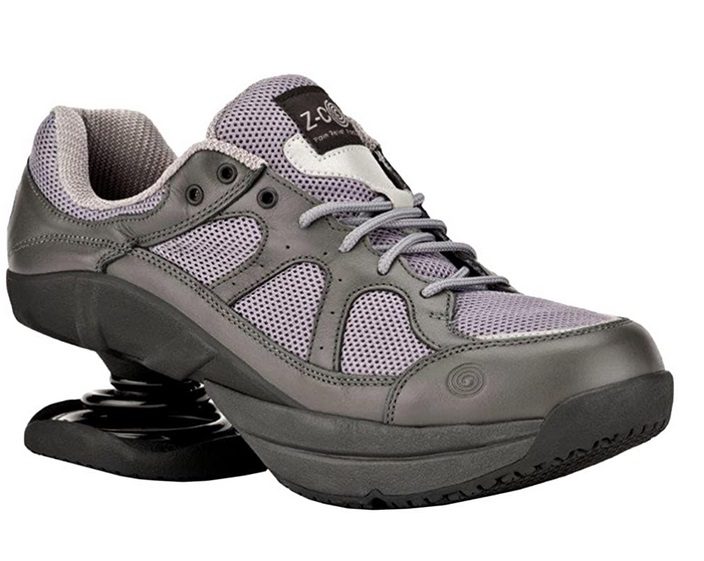 Read Next –Best BALL OF FOOT Pain Relief
Stable In All Conditions
Z-CoiLs are stable in all conditions, and most people find they get used to the feel and support of Z-CoiLs in just minutes.
Last but not least, the rounded forefoot includes nearly an inch of soft cushioning that shields the ball of your foot from excessive strain while assisting with forwarding motion.
Z-CoiL's are a great value, typically lasting 2-3 times longer than conventional shoes, saving you money. Over 1 million pairs have been sold since 1995.
Try Z-CoiL today and discover why so many people from all walks of life can live pain-free.
Plantar fasciitis, heel spurs, and back pain are the most common relief areas. Still, Z-CoiL is also very useful for sciatica, Morton's neuroma, metatarsalgia, arthritis, diabetic neuropathy, and joint and hip pain.
Z-CoiL is not a shoe but equipment that makes walking enjoyable, light, and comfortable.
Lose the pain and regain confidence as you move through your day with Z-CoiL.
The heel measures approximately 0.75 inches."
A patented coil in the heel reduces impact by 50%, reducing foot, leg, and back pain.
A built-in rigid orthotic protects and supports your foot, eliminating pain, plantar fasciitis, and heel spurs.
Extra cushioning is added to the shoe's front to protect your foot and toes' ball.
The need to reduce static and shock loads on the affected heel fascia is because the spike increases pressure on the surrounding tissues when walking. This not only delivers unbearable pain but prevents the regeneration of connective tissues.
Orthopedic shoes with a heel spur help reduce stress and protect the sore heel from additional injury. If you are looking for shoes to wear with a heel spur, see below the five best shoes to fight plantar fasciitis by z coil…
5 Best Shoes to Fight Plantar Fasciitis By Z-Coil:
Orthopedic shoes with a heel spur help properly distribute the load on foot, unload the heel area as much as possible, and protect it from additional injuries.
Insoles in shoes should have a thicker heel part to cushion well, reducing pressure from the heel area and reducing pain. So, see below the best shoes to fight plantar fasciitis by z coil…
Z-CoiL Women's Outback Hiker Black Boots:
This line of trekking shoes is well-known to many people from all over the world. The genuine leather from which the boots are made is dense and high-quality. And a thick rubber welt that complements the shoe's upper protects against unwanted damage. Inside, a Gore-Tex membrane allows the feet to stay dry in any weather.
Many buyers have noted the comfort of the shoe. The anatomical shape of the insole helps to fit the foot comfortably. The weight of the boots is relatively light, and thanks to this, the legs do not tire.
The model is also protected from unnecessary moisture. The Megagrip outsole provides excellent traction on any surface, while the midsole provides the necessary resilience and softness to reduce the stress on the knees that come from impact.
Rubber rand keeps fingers and toes from hitting rocks. Boots are recommended for hiking with a small backpack or hacking.
Z-CoiL Women's Outback Hiker Composite Toe Black Boots 8 C/D US
as of October 3, 2023 10:40
Z-CoiL Women's Outback Hiker Black Boots 7 C/D US
as of October 3, 2023 10:40
Read Next – Best Running Shoes for Knee Pain
Z-CoiL Women's Toffler Enclosed Sandal (Slip Resistant):
Z-CoiL Women's Toffler Enclosed Sandal has become famous for the excellent quality of its products. They are positioned as professional equipment.
The complex challenges of long-distance hiking are not terrible if Z-CoiL Women's Toffler Enclosed Sandal flaunts on your feet. The wear-resistant sole will not allow harming the foot even during active walking along the foothills.
As confirmed by customer reviews, z-CoiL Women's Toffler Enclosed Sandals stand out for their stable foot position and shock absorption efficiency. This model is very durable and, at the same time, light, which is the best alternative for bold movements. Inside the shoe, there is also an additional boot that does not allow moisture to penetrate.
The removable anatomical latex insole has a pleasant upper coating that prevents the foot from slipping when walking and is thicker, which allows it to cushion well and reduce stress. At the same time, the light arching supports the foot from below.
Thanks to a slight wedge heel, the foot assumes a correct position to reduce pressure on the heel area.
Read Next – Best Non-Slip Shoes
Z-CoiL Women's Toffler Slip Resistant Enclosed Coil Black Leather Clog Sandal 7 C/D US
out of stock
as of October 3, 2023 10:40
Z-CoiL Women's Freedom Slip Resistant Enclosed Coil Leather Tennis Shoe (Black, Numeric_7)
as of October 3, 2023 10:40
Read Next – Best Trail Running Shoes 2023
Z-CoiL Men's Outback Hiker Composite Boots:
Trekking shoes are designed for long and difficult mountain trips. From above, the boots are made of reliable 2 mm thick nubuck with a rubber welt – this increases the wear resistance and durability of the product. The outsole is considered medium-firm and supports the foot during challenging routes. The nubuck is treated with an impregnation that prevents the penetration of moisture.
The Expert VIBRAM sole's outer part ensures the shoe's perfect grip on the surface of varying difficulty. The sole is the most flexible due to the particular intermediate interest. Users note that the feet remain dry at any temperature thanks to the membrane.
Z-CoiL Men's Outback Hiker Composite Toe Black Boots 9 E US
as of October 3, 2023 10:40
Z-CoiL Women's Outback Hiker Composite Toe Black Boots 9 C/D US
as of October 3, 2023 10:40
Read Next – Best New Balance Hiking Shoes in 2023
Z-CoiL Men's Freedom Slip Resistant Leather Tennis Shoe:
Like the previous versions, z-CoiL Men's Freedom Slip Resistant Leather Tennis Shoe seems to be with us for a long time. Even as a highly specialized model for mud and snow (it has always been and never otherwise), they are bought for everything.
The fifth-speed cross is significantly softer than its predecessors, more flexible, breathable, and wicks away water. The tread is slightly broader and more responsive to hard surfaces, although the soft rubber will wear out quickly on challenging trails.
The fit has changed – a more bottomless heel cup for better stability and a higher heel counter to reduce pressure on the Achilles.
New from Salomon for long mountain runs with improved cushioning and overall comfort. Salomon, which usually focuses on more dynamic models with a minimalist style, is discovering a niche for soft high-platform sneakers.
The outsole is made from a slightly softer version of Contagrip MA rubber and features a versatile 4mm-deep stud pattern. The delicate structure of the rubber works well with the midsole's characteristics, improving the smoothness and comfort of the run. This outsole can handle almost any terrain.
The dual-density Energy Surge midsole features a firmer upper and softer foam above the outsole. This gives the shoe maximum cushioning for Salomon, good responsiveness, giving the ride liveliness and lightness.
The Energy Surge material is much more forgiving, absorbs shocks well, and is suitable for long distances.
Z-CoiL Women's Freedom Slip Resistant Enclosed Coil Leather Tennis Shoe (Pink, Numeric_10)
as of October 3, 2023 10:40
Z-CoiL Men's Freedom Slip Resistant Leather Tennis Shoe (Black, Numeric_9)
as of October 3, 2023 10:40
Read Next – Best Tennis Shoes with Heels Z-CoiL
Z-CoiL Footwear Explainer Video
Read Next – Spring Flex vs. Z-coil Shoes
Last updated on October 3, 2023 10:40
Read Next – The Best Walking Shoes for Plantar Fasciitis